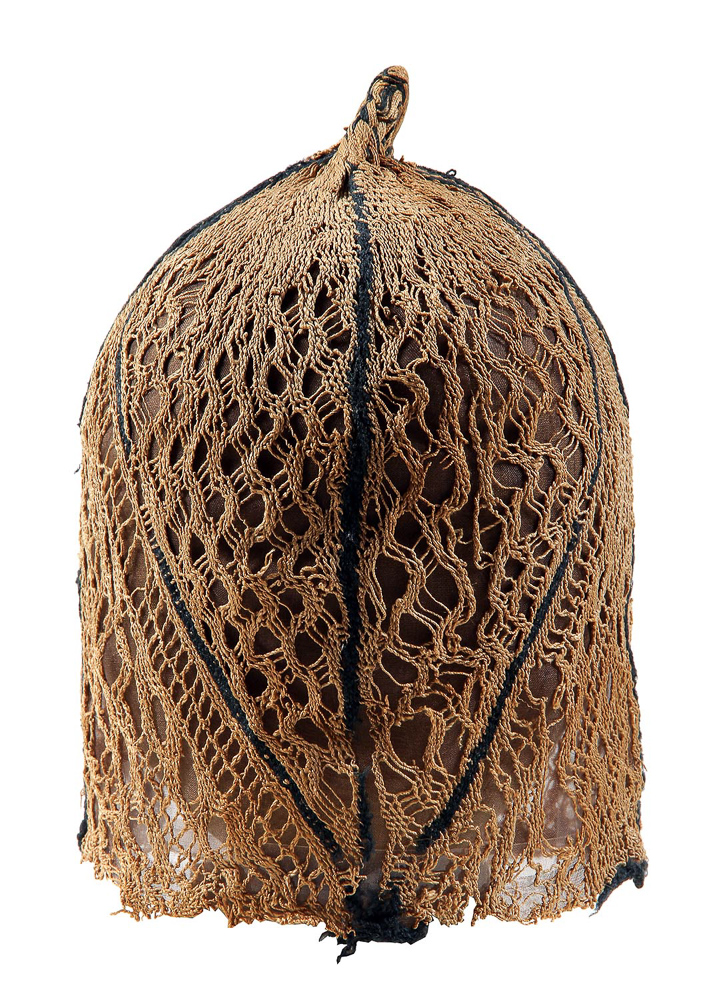 This head net was made in sprang, a technique that enabled to cross warps by hand and to maintain the design in position. Once the net, and notably the centre, had been completed, it was finished by interlacing the threads, as can be seen here on the top. A small cord, here in red wool, was often added to one of the bases of the net in order to fit it closely on the head.
Dimensions:
H. 19 cm, L. 19.5 cm
Comparisons:
Musée Dobrée, Nantes (on loan from Musée de Cluny) inv. D 2001.2.2 and D 2001.2.3.
Provenance:
Collection Coptic textiles Fill-Trevisiol: donation
Location:
Musée royal de Mariemont
Open sprang in natural coloured linen
I. Open sprang structure
Yarns used for sprang:
natural-coloured linen S2Z; blue wool S2Z
Browband:
blue wool: fragment sewn together for conservation: technique?
Red drawstring at the back:
not through the back loops
Narrowing at the top:
7 rows of 2 yarns together, 1 row of 4 yarns together, then several rows of 8 together: tassel: 3.5 cm; side seams closed with blue wool