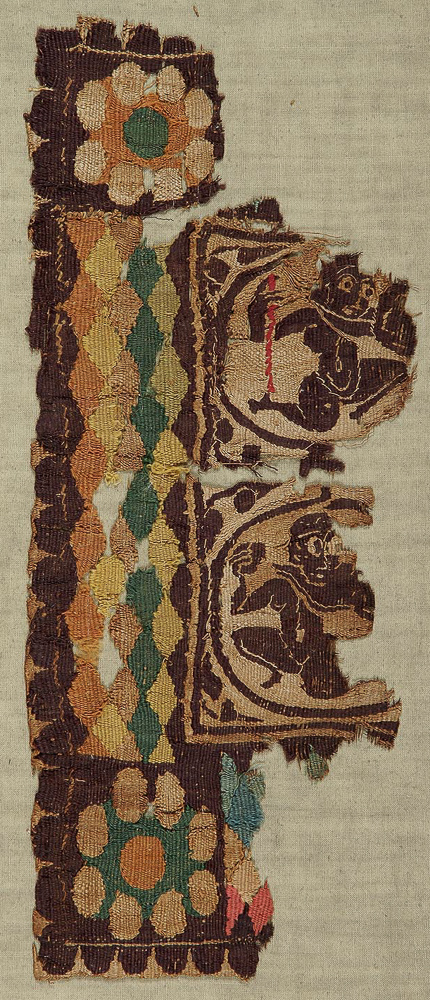 The border of this partially-preserved tabula has a large rosette in each of the two corners and friezes of coloured lozenges on the longer sides. In each medallion is a nude hunter with a mantle on his shoulders. The upper hunter holds a shield in his right hand and a red spear in the left. The second hunter holds a stone in his right hand. Both are apparently running.
Dimensions:
1) Warp: 28 cm, weft: 14.5 cm;
2) Warp: 7 cm, weft: 7.5 cm
Comparisons:
Abegg-Stiftung inv. 608.
Provenance:
Collection Coptic textiles Fill-Trevisiol: donation
Location:
Musée royal de Mariemont
Linen and woollen tapestry
I. No ground weave
II. Tapestry areas
Warp:
natural-coloured linen
Weft:
purple wool S: partly woven with 2 yarns/pick: +/- 20/cm, where single used: +/- 40/cm; orange, red, green, yellow and blue wool S: 40-46/cm; natural-coloured linen S
Weave:
extended tabby: irregular units of 2 and 3 warp yarns
Special techniques:
slit tapestry, eccentric weft, vertical weft brocading, flying thread brocading for details