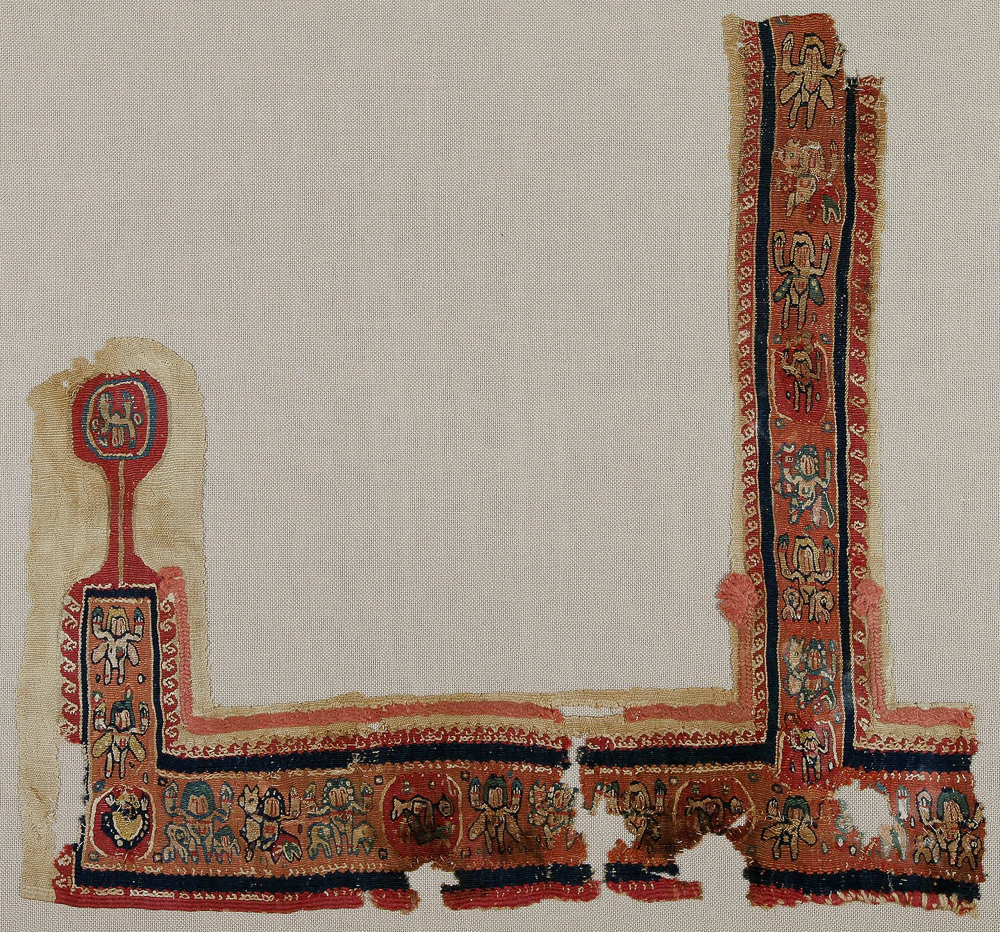 Tapestry bands decorate the lower part of a woollen tunic. On the left, the upper part of the L-shaped band ends in a medallion. On the right, a long clavus fragment extends upwards. On a red ground, stylised figures and horsemen with raised arms line up between medallions at regular intervals.
Dimensions:
Warp: 48.5 cm, weft: 45 cm
Comparisons:
Cf. FT 201.
Abegg-Stiftung, inv. 435 and 436.
Pushkin Museum, inv. 617.
Provenance:
Collection Coptic textiles Fill-Trevisiol: donation
Location:
Musée royal de Mariemont
Woollen tapestry, details in linen flying thread
I. Ground weave
Warp:
natural-coloured wool S: 11/cm
Weft:
natural-coloured wool S: 46/cm
II. Tapestry areas
Warp:
natural-coloured wool S: 11/cm
Weft:
red, different nuances of blue wool, pink, orange, green S: 46/cm; natural-coloured linen S: for details
Special techniques:
slit tapestry, eccentric weft, soumak to outline figures and inner-circles; vertical weft brocading in countered direction, with 2 S yarns; selvedge: three units of 3 yarns each; 2-2 countered twining with 4 loops of pink wool + fingerweaving (sewn over long vertical slit between ground weave and tapestry band)